A Better Choice To Enlarge Images Free Online/Phone
The images are not always the exact size we want, so it's important to choose the right image editor to resize the images. When you are enlarging a photo in a photography contest website, want to take a clear look at the details. However, there comes up a blurry and fuzzy photo, this is the common side effect of enlarging images. This isn't just about resize image, image weights almost 2/3 of the web page. Poor quality images could results in the bad viewing experience, a decline in the website's traffic. It can be seen that the quality of the image really needs to be considered by website builders. Thus, image enlarger plays an important role in image optimization. AI Image Enlarger is an artificial intelligence-based image editor to enlarge the image without losing quality. Compare to other image enlarger programs, AI Image Enlarge has a good reputation among users.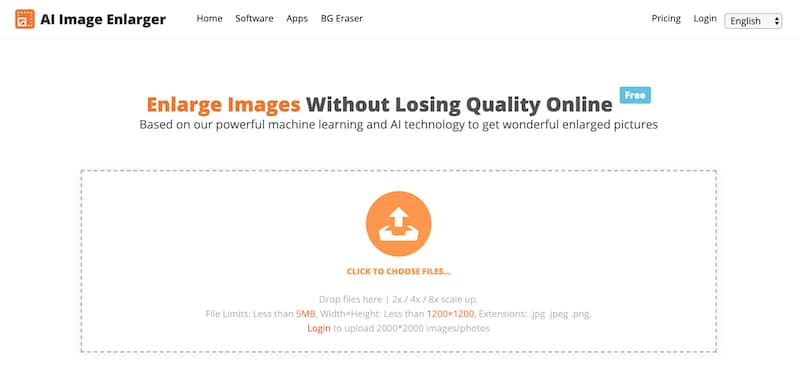 1. Why choose AI Image Enlarger


There are a lot of image enlargers on the market. Different from other enlargers, AI Image Enlarger is powered by deep machine learning and advanced AI algorithms to analyze the resolutions and upscales your photos. With the strong and functional features, AI Image Enlarger allows users to view more details without any blurry and fuzzy. AI Image Enlarger makes the image clearer and detailed which offers an extraordinary viewing experience for viewers. Do you wonder how convenient this program is? The only thing you need to download is the enlarged photo.

AI Image Enlarger is a FREE online tool to help you to enlarge images without losing quality. For basic features: 2x max ratio and no batch process, AI Image Enlarger is completely free. For more max ratios and batch process, there are two plans for different needs, $14.99 monthly for premium version: 2x/4x/8x max ratios and 10 images batch process. $39.99 monthly for pro version: 2x/4x/8x, max ratios, and 20 images batch process. AI Image Enlarger also comes with a mobile application for both Android and IOS. Users can enlarge photos without device limits. Additionally, AI Image Enlarger is also easing to use, even computer novice can handle this program in mere seconds.



2. How to use AI Image Enlarger


AI Image Enlarger is very easy to use. There are 6 simple steps to enlarge images by using AI Image Enlarge as below:

Step1: Search AI Image Enlarger in Google and click the official website: https://imglarger.com/Home/

Step2: Click the 'Click to choose file...' to upload the image you want to enlarge

Step3: Choose the ratio you want

Step4: Click 'start' to start the enlarging

Step5: A few seconds later, the enlarged image is ready to be downloaded

Step6: Click 'Download' to download the image into your computer


3. Alternative program

Waifu2x is a free image enlarger powered by AI Deep Convolutional Neural Network. It has a good image enlarging feature, however, the surface design is quite confusing according to some reviews. Waifu2x is the best choice for anime image editing. Users can upload the image from the computer or enter the URL of the online image. Waifu2x only supports 2x enlarge, that is a limit compare to AI Image Enlarger.


Conclusion

The quality image makes the web page more attractive and professional, and it brings your web page more traffic. AI Image Enlarger earns a good reputation by its strong and professional features and user-friendly surface. The most important, AI Image Enlarge won't cost you a dime to take a trail. If you are looking for a free online image enlarger with efficiency, why not trying AI Image Enlarger? It will bring you only surprise, no upset.


Want to Generate High Resolution Images?
Please try
Background Generator
.